Many cat owners would agree with me when I say that our cat's behavior can be as unpredictable as the weather in London.
It can be raining at the moment and completely sunny the next. You can even get four seasons in one day.
Trying to figure out our cats can be a futile attempt at times. Have you had your cat follow you and then ran away when you try to get close?
I have.
Some cats may follow and then run away from their owners out of playfulness. It can be fun and exciting for cats to try and get their owners to chase them. It is more a problem the cat runs away out of fear and anxiety. This could be due to a behavioral or medical problem.
Unlike cats, I will attempt to be more predictable in my article so that we as cat owners can understand this cat running away issue better.
Why Does My Cat Follow Me And Then Run Away?
There are two sides to this problem. One is common cat behavior and the other is something that might require veterinary advice. But let's not jump the gun here before making a proper assessment.
Your Cat Is Being Playful
Cats are playful in nature. The majority of cats have the ability to self-entertain themselves till they run out of energy.
Kitten especially are just little furballs of boundless energy and these cats love running around and being silly.
My cat who is 14 years of age, still exhibits bouts of crazy playfulness at times.
Your playful might be trying to engage you in a game of tag. This happens when your cat will sneakily follow you, paw punch you on the leg before sprinting away like its tail on fire.
This feline behavior stems from your cat's strong predatory instincts.
Feral cats in the wild have to hunt for their food and cats are natural-born hunters, having one of the highest success hunting rates. Dr Sharon Crowell-Davis, who is a professor at the College of Veterinary Medicine at the University of Georgia, states that even her own cats love to play tag. They would take turns chasing each other and running away.
Some cats just like being chased by their pet owner and you are doing them a favor by doing so. It gives them an opportunity to express their simulated hunting scenario in a safe environment.
Your Cat Wants You To Follow
There are times when your cat engages in this behavior not out of playfulness but to get you to follow.
One way to tell the two apart is to notice your cat's body language.
A cat who is playful will be running around, jumping, pouncing and behaving like the energizer bunny.
If your feline friend wants you to follow, you can sense a little more urgency in your cat's actions.
Here's how you can tell the difference:
More vocal
Making more eye contact
Following you and then running off
Keeps looking back
It isn't always a matter of life and death when your cat wants you to follow even though they make it seem like so.
My cat does it all the time when he's hungry.
Your cat's food dish or water bowl might be empty and your feline master isn't too happy about it. Or it could also be that your cat has found a nest of baby squirrels or rabbits in the backyard and wants to show them to you.
Outdoor cats like stray and feral cats do this to get the attention of us humans. This usually happens when they do need help with their kittens or other cats in their community.
Your Cat Isn't In The 'Mood'
This is how my cat can behave on a typical day.
Follows me about the house for a while. Goes and hide under the sofa when I try to pick him up. Rinse and repeat a few more times until he gets fed up with my need for some affection and climbs up the bookshelf to escape.
Gives me a look that says "I'm not in the hood for huggies and kisses today, human".
Try not to take it too personally when your cat avoids you at times. They have their off days too.
Your Cat Is Unfamiliar With Its Environment
Cats do not really enjoy change. They have a set routine that they prefer to stick to. They like to find their essentials in all the same places as yesterday.
Let's assume that you have recently moved house and it has only been a few days since you settled in.
Your cat is going to be feeling out of wack as noting smells familiar at this point. Cats make it a point to mark their surrounding areas with their scent glands.
It is common to see your cat rubbing its face on the wall and furniture at home. It feels safer and more comfortable when it recognizes its own scent.
When everything feels unfamiliar, your cat might start to get more anxious. It won't be in the mood for affection and your cat will run away from you when you get too close.
The good thing is that once your cat settles in by marking everywhere and everything with its heavenly scent, it will start behaving like its old self again.
Your Cat Doesn't Trust You…Yet
It can be difficult to win a cat's trust but easy to lose it. In general, most cats aren't really as trusting towards strangers.
The reason for this is that cats are solitary creatures. They have to start fending for themselves once they leave the nest. Dogs on the other hand are more sociable due to their nature as pack animals. They tend to live and hunt as a pack.
If you have a new cat that you have just adopted from the local shelter or a victim of hoarding, you can expect your cat to be showing more apprehension around the house.
Some of us adopt cats who are already in their adult or senior years. It can be hard to tell what kind of past they had.
Street cats usually lead harsh lives and always have to be on the lookout for danger which makes them wearier of people.
Your cat could be suffering from post traumatic stress syndrome (PTSD) due to having an abusive past.
Your cat's anxiety level is probably through the roof at this point with it having to deal with a new environment and pet owner.
How To Gain My Cat's Trust?
If you suspect that your cat is having some anxiety issues due to PTSD or a rough upbringing, the best place to start is to speak with your vet. They will be able to provide veterinary advice that can help make your cat settle in faster.
On top on that, there are a few things that you can do as a pet owner to help bolster your cat's confidence.
Always take it slow with your cat. You need to understand that animals react differently to certain situations than humans.
Make sure to move at a pace that is comfortable for your cat and respect your cat's boundaries.
If your cat is following you, that means that there is a desire to bond and socialize. But it needs time and some behavioral therapy to help overcome whatever issues that is holding your cat back.
For such cases, it is best to give your cat more alone time and let it come to you when it feels ready.
Do not just run towards your cat and start smothering it with hugs and kisses.
You won't be too happy with the claw marks on your face.
Your Cat Might Be Feeling Sick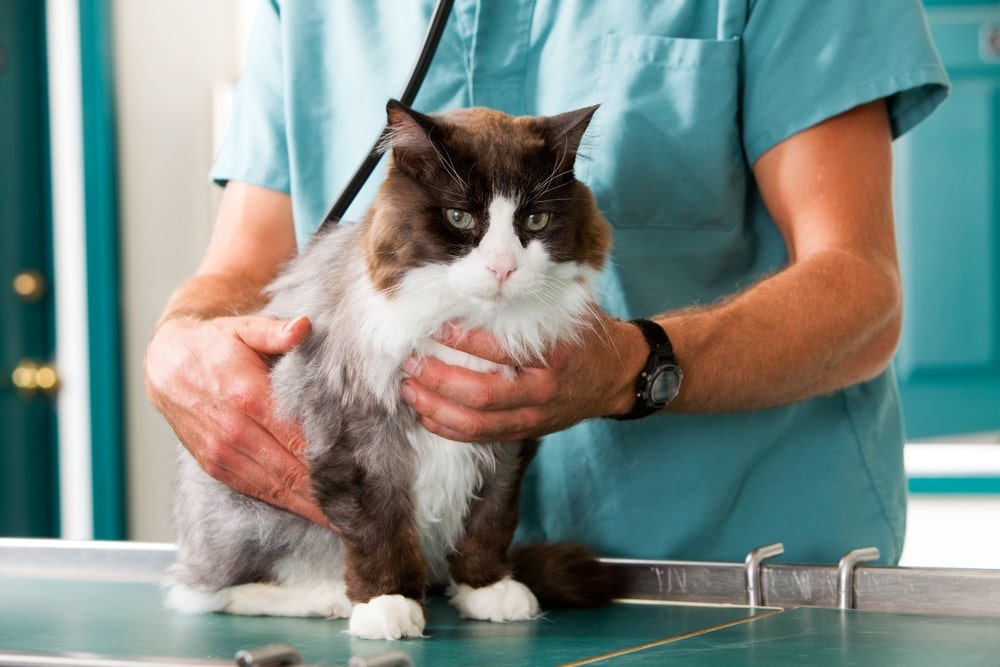 Cats are masters of disguise and do what they can to hide their pain and discomfort. This stems from their natural instincts in the wild.
If you show that you are injured or ill, predators will take notice.
Your cat might not be too keen on making contact with you. It still wants to be close but not to the point of being touched or carried.
There will be some tell-tale signs if your cat is unwell:
Frequent hiding in a dark corner
Lack of appetite
Stomach upset
Nausea
Lack of energy
You won't be able to exactly tell what is wrong with your cat as there are many health problems that share the same symptoms.
The best way to get to the root of the problem is to get your cat checked by the vet. Don't sit on it if your cat is feeling unwell.
Why Would My Cat Suddenly Be Afraid Of Me?
There are a lot of things that can spook your cat without us realizing it. It could be due to a freak incident where you accidentally stepped on your cat.
Or did you make a loud sound when your cat was nearby which scared the crap of it? You could have also triggered your cat's PTSD without knowing it.
How Can You Tell If Your Cat Doesn't Like You?
It is obvious to know if your cat doesn't like you. You will be able to see it in your cat's body language.
Here are some signs of dislike from your cat:
Yowling
Hissing
Puffed up tail
Turning sideways and showing its claws
Hiding from you
Don't try to appear your cat if it is showing you the above body language. The best thing that you can do is to leave your cat alone for now until it calms down.
Why Does My Cat Want To Be Near Me But Not Touched?
As a cat owner myself, one thing I've realized is that you can't force affection on your cat. There are times when a cat just doesn't like being touched. This doesn't mean it doesn't like being near you as a source of comfort.
Furthermore, not all cats have the same level of tolerance when it comes to receiving affection. I've always wanted a lap cat but my cat isn't one.
That doesn't make me love him any lesser.
That's just his personality.